This stretch of Hawbottom Road is REALLY fun to ride:
https://maps.google.com/maps?saddr=Hawb ... sz=17&z=17
(Google maps is a bit off with the road trace, there are NOT those 2 90 degree bends in there)
I have ridden back and forth over it for 15-20 mins without getting bored. There isn't a creek/river crossing, but there are a bunch of natural springs near by, so the road is ALWAYS flooded out. It is a muddy and rocky two track dirt road with least least 2 flooded out spots about 15 ft long and 3-10 inches deep. If you ride this road during or after a hard rain, the entire road is a river, with a pretty strong current. There are some baseball to bowling ball sized rocks on this road... and some are submerged... so watch out.
This photo is from a relatively 'dry' day: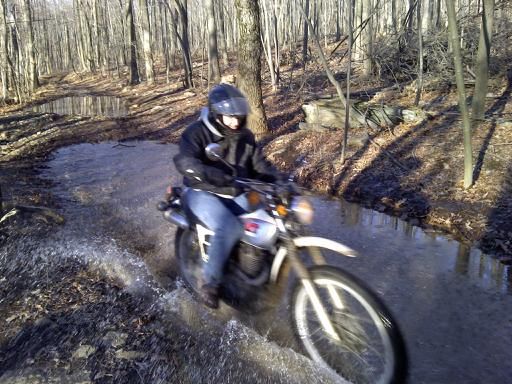 Whenever I ride up to the Frederick Watershed I always come and go via Hawbottom road.