dirtygrunt wrote:
This is the DR250S I got back in June.Talk about a PITA. I buy a lot of "cheap" scoots and usually I do alright. This one not so much. It is the epitome of "rode hard and put away wet".
New rubber, brakes, valves adjusted, carb rebuilt, new chain rollers and a few other things and now she's reasonably safe to to ride.
The plan is to ride her around for a bit and do an overhaul in the winter.
Update. Finally. She's where I want her to be, maybe I'll even get her on the trail before winter sets in.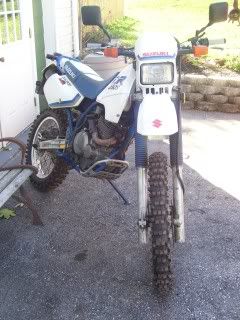 In addition to the above: new chain and sprocket set, pulled the swing arm and shock off and took care of all the bearings and such. Had to drill out the hole for a bolt (broken off) holding the chain slider, also new. Replaced clutch cable,and...oh electrical redone. Now everything works like it's spota. And replaced the sidestand, the original was way bent.
One thing left is the kick starter is a little loose as the retaining bolt is broken. I tried to drill it out, but no joy. Still works.