I posted some of this on ADV rider... I sold my DR350 last year cause I got tired of always towing to rides and wanted something to ride to the dirt... A friend was selling this for the same $$ as I could get for my dr350 - so I snagged it... It has less than 6k miles - runs good - but needs some tlc as it spent sime time outdoors..
It's a KTM Adventure 620 (609cc) low pipe model... Which now looks like this ..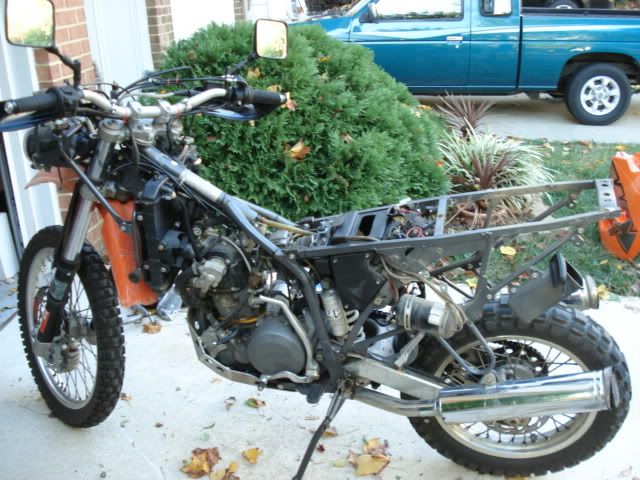 except the lower dual exhaust section is off the bike now... The thing that is killing me is that I am having a hard time getting the header off the bike as it appears to be rusted on.. you can see my problem here -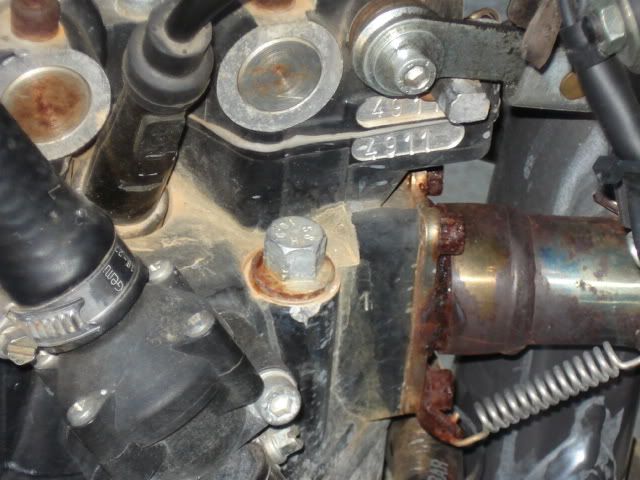 .
I need to get it off to clean up the mouting bracket and to swap and put the EU style exhaust I got of Adv rider -
.. I have a welder friend who is going to put an extension and bend in the pipes so the duals will angle the exhaust up more like a rallye bike...
Stuck inside with a head cold I spend painstaking hours chipping off the decal off the old tank today.. Talk about a PITA... There is still that sticky gooey residue... My plan is take it to a car wash - along with the rear faded bit to to a car wash and blast em to get em as clean as possible.. Then I will scrub the tank and paint the rear tail pieces as they are super faded (figure I will do em grey - the new seat it grey, orange, and black). It's slow going and it won't be totally complete with bags and such - but it should be ready for the DAMN ride in the end of april... I can't wait to flog this thing...