Happy Tuesday, DAMN.
Given the the Weather Gods are smiling today, I "worked from home", and went out for a spin as soon as time and mind-numbing spreadsheets allowed.
I went out to explore my new Frederick surroundings for a few minutes.
I found that New Design Rd. is long, straight, and a good place to see if that 3rd LCD digit on the speedo is working properly.
I found that the young girls that work at the M.O.M.s organic market where I buy my Virgil's Root Beer are both cute
and
personable.
I found that I am more irritated than I originally thought about the fact that I have to hide my bikes in a storage unit. What a pain.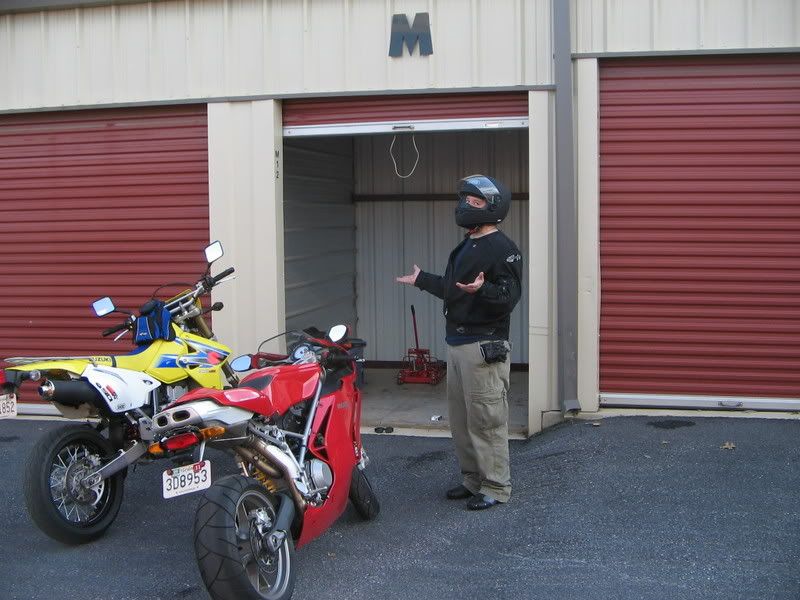 There is something so disheartening in the prospect of keeping the majestic, furious howl of an Italian Desmoquattro twin in a sheet-metal storage mausoleum, along-side unwanted sofas, unused lawn equipment, and other things that people don't care enough about to keep near them. It's like the disgruntled-looking tiger in the tiny pen at the zoo, next to all of the other disgruntled animals that you
know
very well would look completely different in the proper habitat. A travesty, I tell you. A crime.
I blame my wife for just having to have the house, even if it has no garage. I was perfectly happy in my little shanty apartment that
had
a garage.
Did you get to ride a little today and take advantage of the newly-returned sun?
Edit: Rather than eat DAMN bandwidth, I figured I would just post a link to the rest of my bike blog here for you guys to check out. I put bike things in there for later reference, like ride reports and the like. Enjoy.
http://escapeartistscafe.blogspot.com/